THE FIELDS:
ETSU has recently invested 3.5 million dollars in the Summers-Taylor soccer complex. This complex is home to the ETSU Men's Soccer team and allows adequate field space for training as well as competition. As a Buccaneer Soccer Academy camper, your son will train at this state of the art complex located at the foot of the Blue Ridge Mountains.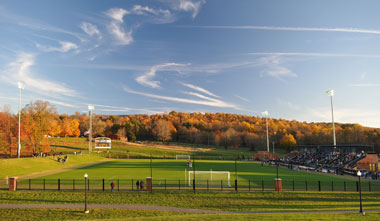 WHERE YOUR SON WILL STAY:
Campers attending the ETSU Soccer Academy Elite Residential camp will stay in the brand new Centennial Hall located on the campus of East Tennessee State University. Centennial Hall is a fully secure facility where access can only be gained with an assigned ID card that will be distributed on the first day of camp. At the ETSU Soccer Academy, safety is our #1 priority. Rooms at the Centennial Hall will ensure the safety of your son throughout the duration of his stay.
THE CAFETERIA:
Residential campers will dine in the newly renovated "Main Meal" located within the Culp Center on the ETSU campus. We work with dining services to make sure that the meals served provide campers with both proper nutrition and energy.